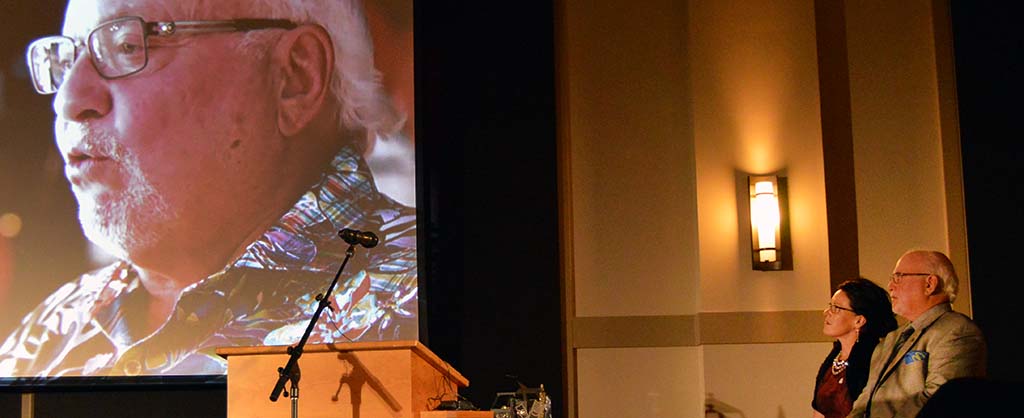 Bob Lane Honored with $100,000 Grant
Oak Brook, IL., (November 5, 2016) – Ronald McDonald House Charities (RMHC), a global nonprofit that creates, finds and supports programs that directly improve the health and well-being of children around the world, honored McDonald's Owner/Operator Bob Lane with the Gerry Newman McTLC Award of Excellence for his ongoing philanthropic support of youth programs across the state of Kansas. More than 1,300 RMHC leaders and guests came together to recognize Lane at the annual Awards of Excellence in Rosemont, Ill. where he was presented with a $100,000 grant that will benefit Ronald McDonald House Charities Wichita.
"The impact that Bob's philanthropic efforts have in his community are truly significant contributions supporting local children and families," said Sheila Musolino, president and chief executive officer, RMHC. "It is an honor to celebrate the extraordinary work that's been done."
Throughout Bob's life if someone said to him, "It can't be done," he would say, "I'll show you." Born in Chicago Heights, IL, he managed construction crews as a young man but wanted to own a McDonald's restaurant.  In 1975, Bob earned his first franchise in Arkansas City, Kansas, becoming the youngest franchisee in the McDonald's System at the age of 27. Today that restaurant and 26 others make up Lane Enterprises, a business that also includes Bob's son Michael and nephew Joe.
Bob's philanthropic outreach began with sponsorships of local sports teams.  His first project as a volunteer for RMHC was leading the effort to build two Ronald McDonald Houses in Wichita. His fundraising efforts gained momentum when Bob led a team of his fellow owner/operators and McDonald's staff people in hosting the 4th annual McDonald's All-American Basketball Tournament at Wichita State University in 1981 – the year that featured High School Seniors Michael Jordan and Patrick Ewing.  That game raised more for RMHC Wichita than the three previous games combined.
Opening both Ronald McDonald Houses helped drive his life-long commitment to philanthropy.  Today Bob, Jennifer, and members of his family continue their active involvement with RMHC Wichita.  He has contributed generously to his community in El Dorado, Kansas, serving as co-chairman of fundraising campaigns for the El Dorado YMCA and BG Products Veterans' Sports Complex.  He was also a major contributor to the SBAMH Cancer Center — all projects that have truly changed the face of the town.
Lane is being awarded The Gerry Newman McTLC Award of Excellence. As one of the founders of RMHC and its first president, Gerry Newman was a champion for the Charity, touching the lives of millions of children.  Since 1988, The Gerry Newman McTLC Award of Excellence has honored the Charity's founding mission partner and McDonald's owner/operators who have stood out among all others for their efforts on behalf of children, and best exemplify Newman's dedication to RMHC.
Each year the event attracts hundreds of business, community and health care leaders who are dedicated to helping the Charity support seven million children and families annually. This year's celebration was marked with a special performances by Lennon & Maisy, singers, authors and actors from the hit TV show "Nashville" and Katharine McPhee, singer, songwriter, star of the popular TV show, "Scorpion," and social activist.
Past recipients honored at the RMHC Awards of Excellence have included puppeteer and screenwriter Jim Henson (1990); Former First Lady Betty Ford (1998); Her Majesty Queen Noor of Jordan (2002); founder of Southwest Airlines, Herbert D. Kelleher (2010); and the Honorable Dr. Agnes Binagwaho, Rwanda's minister of health (2015).