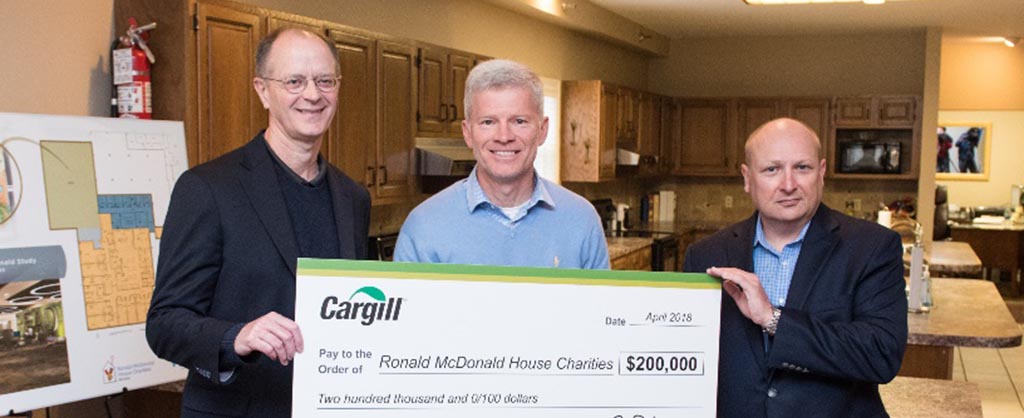 CARGILL DONATES $200,000 FOR NEW RONALD MCDONALD HOUSE
WICHITA, KS – (April 2, 2018) Ronald McDonald House Charities® Wichita (RMHC Wichita) is building a new Ronald McDonald House® that is estimated to be open by the end of the second quarter 2019. Its new, large, accessible, efficient, and "heart of the home" kitchen is being made possible through a $200,000 donation by Cargill, and will be named the "Cargill Kitchen."
When children must travel long distances to access top medical care, accommodations for families can be expensive or not readily available. Ronald McDonald House® helps families stay close to their ill or injured children, increasing the caregivers' ability to spend more time with their child, interact with their clinical care team and participate in critical medical care decisions.
"We provide a private place for families to stay each night, along with the little things that are otherwise easily taken for granted – warm meals, a hot shower, a play space and friendly faces to come home to after a long day", explains Susan Smythe, CEO of RMHC Wichita.
Families from all over Kansas eat in the RMHC kitchen and have a nourishing experience, and they share this positive experience with friends, families and their local communities. Donated food is available in the kitchen daily. Volunteers lovingly prepare meals for the families several times a week. Additionally, guests from a variety of cultural backgrounds prepare their own comfort food. Families cook for other families, sharing new food experiences.  Family celebrations, such as birthday parties and holiday meals are also prepared in the kitchen.
"Our purpose is to nourish the world in a safe, responsible and sustainable way that also helps communities thrive," said Brian Sikes, Cargill Protein president. "Supporting the important and noble work that takes place at Ronald McDonald House in Wichita is gratifying to the hundreds of Cargill families that call the region 'home'. We look forward to seeing the new kitchen in operation next year."
The Ronald McDonald House staff is focused on food safety and how to minimize food waste and conserve other resources.  Sixty-three-percent of the families staying at the Ronald McDonald House have preemie babies. Ample high quality food is a necessity for new mothers to produce nutritious breast milk to feed their high-risk preemie babies.