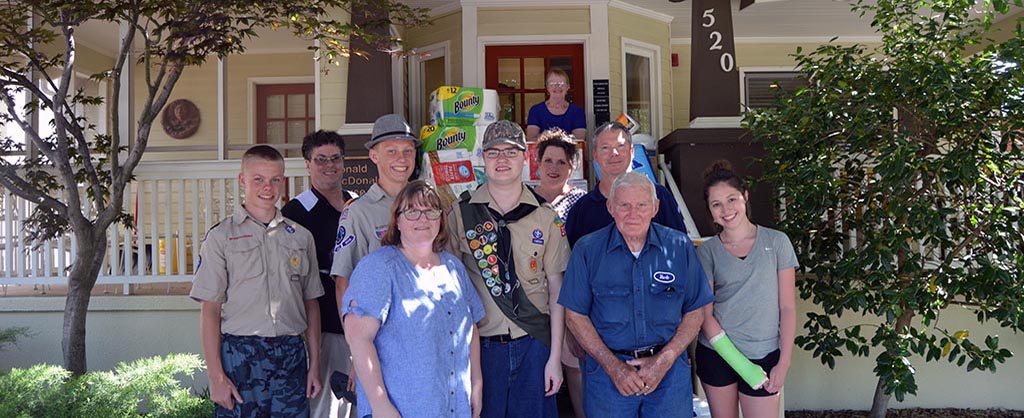 Eagle Scout Project Helps RMHC Wichita Families
Sam Morse came to the Sleepy Hollow Ronald McDonald House with several carloads of donations as well as plenty of family and Boy Scout Troop members to lend a hand.
Sam's Boy Scout Troop as well as the whole Morse family chipped in to help with the project. Sam even recruited members of his church to help collect and donate items. In total, Sam brought paper towels, toiletries, as well as assorted kitchen items totaling a $1,400 donation.
This donation was the culmination of Sam's Eagle Scout Project, which requires scouts to "plan, develop and give leadership to others in a service project" that benefits members of the community.
Sam's project was to collect items from the RMHC Wichita Wish List to benefit the families of sick or injured children receiving care in one of Wichita's hospitals.
"We are so grateful for Sam as well as the Morse family for supporting RMHC Wichita and the families we serve." said Susan Smythe, CEO/Executive Director of Ronald McDonald House Charities Wichita. "He has shown great leadership by organizing this Wish List drive of much needed paper goods."
For Sam, collecting Wish List items was a way to give back to an organization that had personally helped him in the past. Sam, as well as his parents, stayed in a Ronald McDonald House while he was receiving treatment. This project was a way to give back to the community as well as help families just like his.