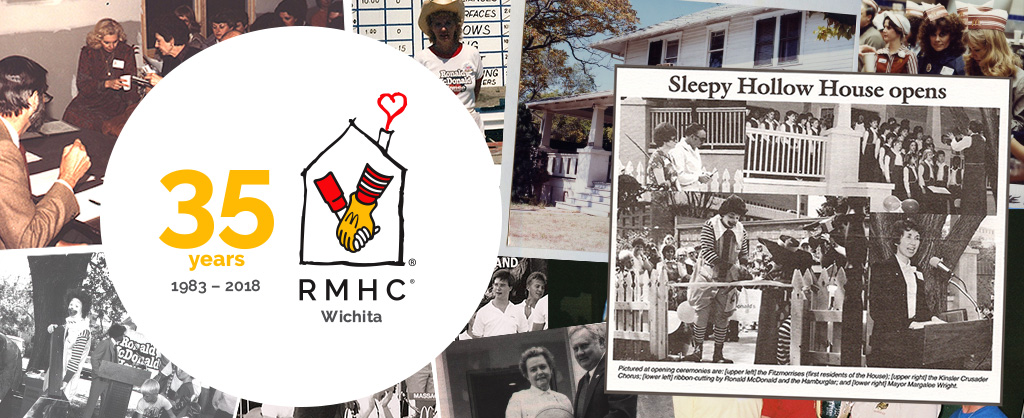 RMHC Wichita Celebrates 35 Years in Wichita
Ronald McDonald House Charities Wichita opened their doors to Kansas families 35 years ago. Below is the origional Wichita Eagle-Beacon article from the groundbreaking of our Sleepy Hollow House back in October 1982. It's so great so see how far we have come and look forward to another 35 years in Wichita.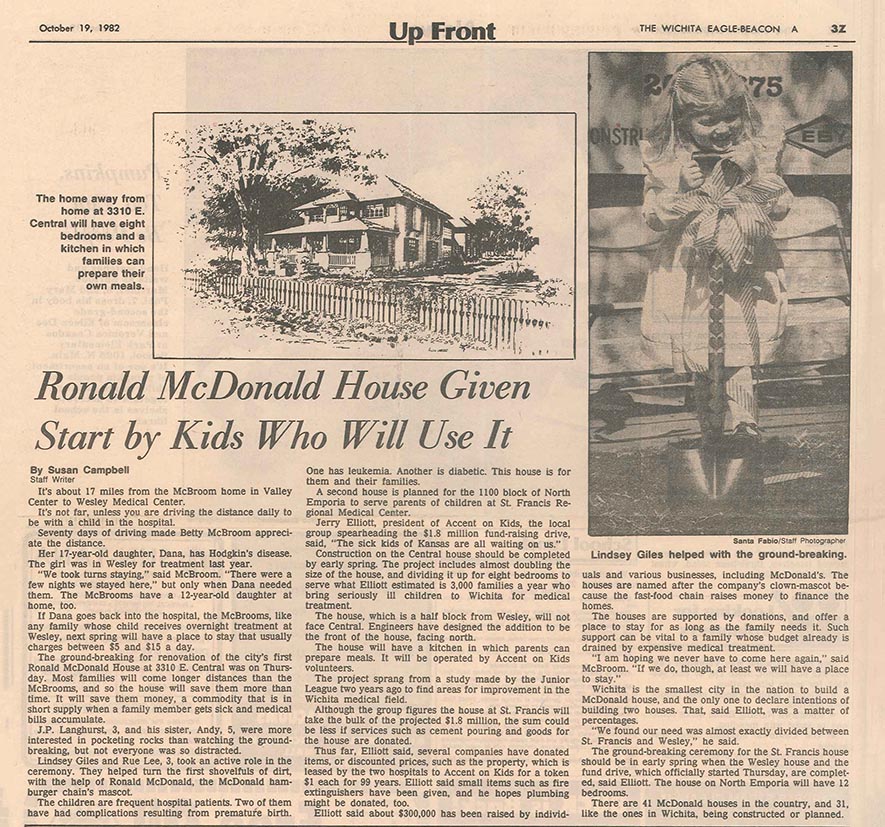 Ronald McDonald House Given Start by Kids Who Will Use It
By Susan Campbell
Staff Writer

It's about 17 miles from the McBroom home in Valley Center to Wesley Medical Center.
It's not far, unless you are driving the distance dally to be with a child in the hospital.
Seventy days of driving made Betty McBroom appreci­ate the distance.
Her 17-year-old daughter, Dana, has Hodgkin's disease. The girl was in Wesley for treatment last year.
"We took turns staying," said McBroom. "There were a few nights we stayed here," but only when Dana needed them. The McBrooms have a 12-year-old daughter at home, too.
If Dana goes back into the hospital, the McBrooms, like any family whose child receives overnight treatment at Wesley, next spring will have a place to stay that usually charges between $5 and $15 a day.
The ground-breaking for renovation of the city's first Ronald McDonald House at 3310 E. Central was on Thurs­day. Most families will come longer distances than the McBrooms, and so the house will save them more than time. It will save them money, a commodity that is in short supply when a family member gets sick and medical bills accumulate.
J.P. Langhurst. 3, and his sister. Andy, 5, were more interested in pocketing rocks than watching the ground• breaking, but not everyone was so distracted.
Lindsey Giles and Rue Lee, 3, took an active role in the ceremony. They helped tum the first shovelfuls of dirt, with the help of Ronald McDonald, the McDonald ham­burger chain's mascot.
The children are frequent hospital patients. Two of them have had complications resulting from premature birth.
One has leukemia. Another is diabetic. This house is for them and their families.
A second house is planned for the 1100 block of North Emporia to serve parents of children at St. Francis Re­gional Medical Ce11-ter.
Jerry Elliott. president of Accent on Kids, the local group spearheading the $1.8 million fund-raising drive, said, "The sick kids of Kansas are all waiting on us."
Construction on the Central house should be completed by early spring. The project includes almost doubling the size of the house, and dividing it up for eight bedrooms to serve what Elliott estimated is 3,000 families a year who bring seriously ill children to Wichita for medical treatment.
The house, which is a half block from Wesley, will not face Central. Engineers have designed the addition to be the front of the house, facing north.
The house will have a kitchen in which parents can prepare meals. It will be operated by Accent on Kids volunteers.
The project sprang from a study made by the Junior League two years ago to find areas for improvement in the Wichita medical field.
Although the group figures the house at St. Francis will take the bulk of the projected $1.8 million, the sum could be less if services such as cement pouring and goods for the house are donated.
Thus far, Elliott said, several companies have donated items, or discounted prices, such as the property, which is leased by the two hospitals to Accent on Kids for a token $1 each for 99 years. Elliott said small items such as fire extinguishers have been given, and he hopes plumbing might be donated, too.
Elliott said about $300,000 has been raised by individuals and various businesses, including McDonald's. The houses are named after the company's clown-mascot be­cause the fast-food chain raises money to finance the homes.
The houses are supported by donations, and offer a place to stay for as long as the family needs it. Such support can be vital to a family whose budget already is drained by expensive medical treatment.
"I am hoping we never have to come here again," said McBroom. "If we do, though, at least we will have a place to stay."
Wichita is the smallest city in the nation to build a McDonald house, and the only one to declare intentions of building two houses. That. said Elliott. was a matter of percentages.
"We found our need was almost exactly divided between St. Francis and Wesley," he said.
The ground-breaking ceremony for the St. Francis house should be in early spring when the Wesley house and the fund drive, which officlally started Thursday, are complet­ed, said Elliott. The house on North Emporia will have 12 bedrooms.
There are 41 McDonald houses in the country, and 31, like the ones in Wichita, being constructed or planned.