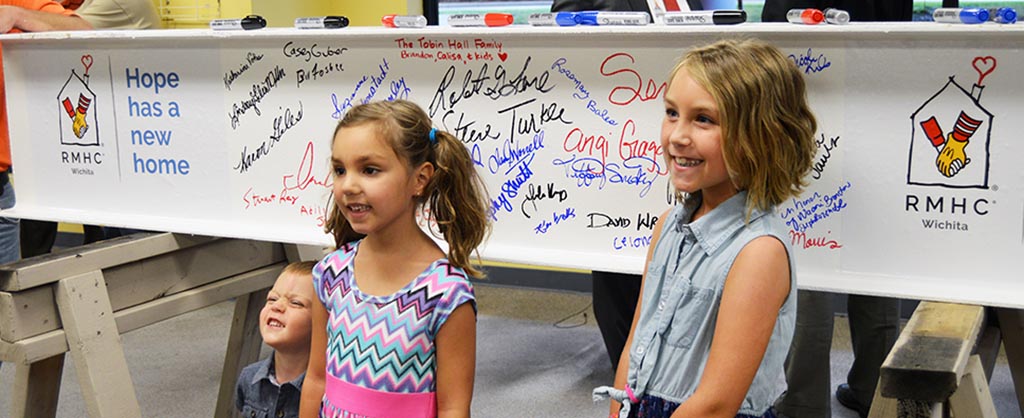 RMHC Wichita Kicks off New House Construction with Beam Signing Ceremony
RMHC Wichita kicked off the building of its new house with a special beam signing ceremony. The new building will be located in the old Health Strategies Building (soon to be called Wesley Medical Plaza) located at 551 N. Hillside. The new house is expected to be open for families by the end of the second quarter of 2019.
The 20,200 sq. ft. of space on the first and second floors in the southeast areas of the building and the 5,300 sq. ft. of outdoor space for the families to enjoy was donated by Wesley Medical Center. The twenty bedroom Ronald McDonald House® will be comfortable, accessible, efficient and convenient for families while they are in Wichita receiving pediatric medical care for their child.
"We provide a private place for families to stay each night in the Ronald McDonald House, along with the little things that are otherwise easily taken for granted – warm meals, a hot shower, a play space and friendly faces to come home to after a long day," said Susan Smythe, CEO of RMHC Wichita.
When children must travel long distances to access top medical care, accommodations for families can be expensive or not readily available. Ronald McDonald House helps families stay close to their ill or injured children, increasing the caregivers' ability to spend more time with their child, interact with their clinical care team and participate in critical medical care decisions.
"Wesley has partnered with Ronald McDonald House Charities Wichita in helping to support pediatric families for many, many years," said Bill Voloch, Wesley Healthcare CEO. "We can't think of a better location to care for families than right across the street from our Wesley Children's Hospital."
Key construction is the general contractor and HFG Architecture will design the new house.